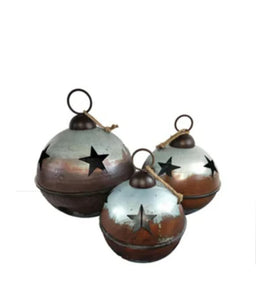 This Rustic Jingle Bell set of 3 is the perfect way to add a touch of style to your home. Made from metal, these oversized bells measure small: 20.75" x 16.5" x 16.5", medium: 26.5" x 20" x 20", and large: 30" x 25" x 25" and is sure to make a statement.

Use it to decorate your porch or add it to your staircase for a festive look. With a variety sizes and colors available, you can find the perfect fit for your home.

Bring some character to your home with these RUSTIC Jumbo Jingle Bells from Vintage Character.
Will need to be assembled upon arrival.